Touch Based
The VMEasy Touch screen can be used in conjunction with all versions of the VMEasy Visitor Management system. In unstaffed reception areas it can act as the point for self-registration, or in busy staffed receptions it can serve as a back-up to speed visitor processing.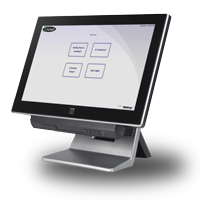 Your visitor can simply check-in at the VMEasy touch screen terminal. We provide two touch screen options including one which is IP44 rated and can be sited outside under a canopy.
The Touch screen process is intuitive and guides your visitor through the check-in process. The design on the Touch screen can be customised with your logo, terms and conditions of site entry and any site entry questionnaires.
VMEasy Touch features include:
Easy To Use: The Touch screen entry system follows an easy, logical process which guides your visitor through the data entry and badge production. The Touch screen design can incorporate your own company logo and specific visitor instructions.
Visitor Photo Capture: The Touch screen entry system gives an option to capture a photo of your visitor.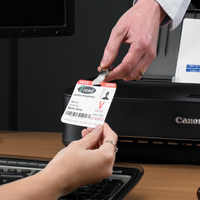 Visitor Signature Capture: The Touch screen entry system can be set up to work with a signature capture tablet so you have documented evidence that your visitor has read and accepted Health and Safety Regulations or Security Regulations of being on site.
ID Badge: Having signed in via the touch screen system, your visitor is issued with a time limited bar coded visitor badge which speeds the site exit process at the end of the visit, or the re-entry process within the allowed time period.
Multi-Tenanted Buildings: The Touch screen can be setup for multi-tenanted buildings enabling each tenant company to have a record of their own visitors. The ID badges produced for each tenant company can be bespoke designed to incorporate their own company logo.
To see for yourself how simple this is try out our VMEasy demo site. Call us today for login details to access the demo system on telephone 0115 860 2255.