Education
VMEasy Education is a version of the VMEasy visitor management system specifically tailored to meet the requirements of education establishments; from the smallest primary school to major multi-premise universities.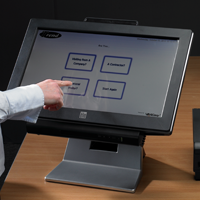 VMEasy Education is a browser-based system that requires no complex installation onto your PCs or intranet.
VMEasy Education starts working for you long before your visitor arrives, in fact from the moment the appointment is first made. Many people coming to your site will be first time visitors, possibly unsure of your location and the best route to your premises and need directions. You may also want to send a meeting confirmation note. VMEasy Education enables you to do all these things efficiently and effectively.
Your visitor would be asked to bring the data sheet along when they come to the meeting.
When your visitor arrives on site and hands over the .pdf print out of the unique bar code, included in the document, it is scanned by the Receptionist or Security staff. This identifies the person's visit and the system prints out a visitor pass, logs the visitor into the live database of visitors currently on site and emails the host to inform them their visitor has arrived.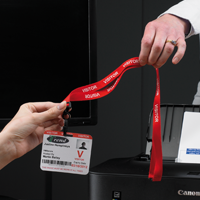 When the meeting is over, the visitor hands back their pass, which is rescanned, booked out of the database and free to depart. An email is sent to the host to inform them their visitor has left the site. This approach means your organisation conforms totally to HSE requirements.
Groups of visitors can be pre-entered into the system, and their badges produced in advance.
A final benefit of the VMEasy Education system is that in the event of an evacuation of the premises an 'emergency report' can be produced instantly. Either as a printed hard copy or, if there is no time for that, use your browser enabled mobile phone to log into your site and see which visitors are in the building.
'Drop in' visitors can be booked into the VMEasy Education system by your Receptionist on arrival, or VMEasy Education can work in conjunction with VMEasy Touch, giving your visitor all the additional benefits of fast, simple Touch screen data entry. Click the following link to view details of VMEasy Touch.
Key features:
Browser-based for simple set up
Meeting confirmation and instructions .pdf emailed to visitor
Book in and visitor pass printed enabled via bar code scan
Visitor photo and signature capture
Live database of visitors on site
Emergency evacuation list either as hard copy or visible via browser enabled mobile phone
Touch screen data entry option
To see for yourself how simple this is try out our VMEasy Education demo site. Call us today for login details to access the demo system on telephone 0115 860 2255.